Park Accolades
Accolades are awarded to parks that stand out from the crowd here at New Element. Parks are broken up into two categories, full scale parks and designs. Typically, full scale parks depict more than one attraction or area of a park, while designs focus on one main attraction.
Currently, full scale parks can be awarded four different accolades: Spotlight, Gold, Silver and Bronze. Designs can only be awarded the Design accolade.
To submit your park to win an accolade you must be a registered member at New Element. To become a member, fill out the form on the sign up page.
Accolades
Accolade History
The Danimation.com Era

Danimation LogoThe history of accolades dates back to the days of Danimation.com. Danimation was a prestigious RollerCoaster Tycoon website emerging short after the game's release. From all the parks that were sent in each month, the best were chosen and awarded the Danimation Spotlight. Danimation also had Dassle Designs which focused on single attractions.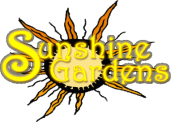 Danimation Spotlight Sunshine Gardens by x-sector When New Element was founded in 2002, iris brought the same concept here. Parks were submitted and one was chosen to be the Spotlight while the ones that just barely missed Spotlight were awarded Runner Ups. Some of New Element's most prestigious members originally created some of the best Spotlights on Danimation before coming over to New Element. Eventually Danimation faded away and made New Element the only source for prestigious RollerCoaster Tycoon parks.
The Beginning of New Element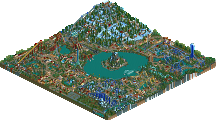 The first ever Spotlight released at New Element Universal's Island Xtreme by Nevis From the very beginning, New Element experienced rapid growth as they overtook Danimation. During this period, New Element was a powerhouse for ground breaking Spotlights. However, from the years 2005-2006 the site saw a massive downturn in Spotlights, with 2006 seeing just one Spotlight. This was brought on due to the advancing of detailing and hacking. The days of picking the best park to win Spotlight had come to a close. Parks were becomming smaller, yet more detailed. Finally, it evolved into parks being sent in to be judged by the administrators, iris, Corkscrewed and later Kumba to determine if they were worthy of the Spotlight or Design accolade. The biggest issue with this was it was very arbitrary and subjected to a very limited view of what was considered good parkmaking. Before, the parks could be compared against one another and the best park was chosen out of a group of parks.
Introduction of the Accolade Panel
In the summer of 2008, New Element got new management. posix and geewhzz took over the site from Kumba and constructed a group of members to be Accolade Panelists, which would vote on every park that was submitted to try and win an accolade.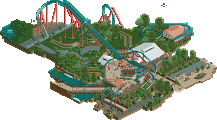 Kumba, made by Kumba, was the highest scoring Design by the Accolade Panel The idea being that this was a much better system than having one or two people deciding what would win an accolade and what wouldn't. The rules of winning an Accolade were simple, the park had to be unreleased content, any map size, and meet certain score criteria by the Accolade Panel.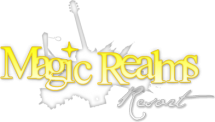 Magic Realms Resort by eyeamthu1, the 1st Spotlight awarded by the Accolade Panel Parks could now be ranked against one another with a scoring metric. Accolades were expanded to include Spotlight, Gold, Silver, Bronze and Design. Over time quality of work has gone way up but submissions aren't as plentiful as they once were. This system gave way to some of the best parks RollerCoaster Tycoon has seen in its entirety.Spotlights such as Zippo's Wacky World of Wonders by Xophe to Six Flags Carolina by CedarPoint6, and designs like DJINN by J K will live on for eternity as some of the best parks the game has ever seen.
Current State of Accolades
Upon launch of the newest site design for New Element, some slight changes were made to how parks can win accolades. Parks no longer have to be unreleased to the public. Parks in the past which were uneligible to win such as contest parks, or parks released at other websites are now eligible to win accolades. Every park that belongs in the park database that has not already won an accolade can be rated by the community. Once it reaches the score requirements above it will be eligible to be voted on by the Accolade Panel. This is intended to go hand in hand with the revived Parkmakers system. To learn more about how a park is eligible to win an accolade, please refer to the top of this page. nedesigns
Quick Find
Accolade Panelists